11.09.2006
Hi everybody!

So now we´re all back home and I have to say that it was kind of a very emty feeling, when the bus drove away from Vordingborg.
I´ve tried to explain to my family and friends, what we did during this week in Denmark, but I think it´s very hard to find the right words to decribe, what we did together.
I guess the clossest will be:

We sure did magic together!

And this kind of magic can´t be explained or dicribed. You have to feel it.

Thx to all for a wonderfull week.


Hugs & good vibrations!

Claus (with the guitar and the white stick)

11.07.2006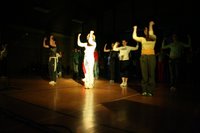 If any of you have photos you want on the website.
Please attach them to an email and send them to me.
ole@dubtrack.com
Ole
11.05.2006
Hello All !
Thank you for a wonderfull week in Vordingborg.
It has been a colorfull and emotional experience to meet you.
Love and respect from denmark
Ole
10.26.2006
Hi everyone !
A little info before saturday:
Please remember that everybody must bring towel and bed-linen !!!!!

and please send information on any vegetarians in your group to Bo !!
He is also missing a couple of mobile numbers to groupleaders !
The youth-hostel adress is:
Danhostel Vordingborg Vandrerhjem
Praestegaardsvej 16
4760 Vordingborg
Telefon: +45 5536 0800
Fax: +45 5536 0801
website:
http://www.danhostel.dk/vandrerhjem.asp?id=121
...and links to Vordingborg Town:
http://www.visitvordingborg.dk/visartikel.php?artikelid=195
Looking forward to se you all in Denmark
Regards Ole HH
10.14.2006
Hello everybody.

Also from my side a warm welcome to the weblog and to "Bridges" youth-exchange.
Things are now that welprepared, so I will go for a half-term holiday in Sweden, but will be back to you on Monday 23rd.

Greetings from Copenhagen
Bo

10.13.2006
To all groupleaders !
Please remember to inform the participants in your group about this log.
It would be great if everyone on the exchange become members of this log.
Any doubts or confusion - or for membership drop me a note with your email-adress on :
Kind regards
Ole HH
10.10.2006
Hello !
This is the weblog for the Drums for Peace exchange "Bridges"
If you are participating in this project, please create an account at
www.blogger.com
and send me a note on
ole@dubtrack.com
that you want to join the blog.
Please inclose your email-address and a username (of your own choice) and I will ad you as soon as possible.
Any problems or comments ? drop me a mail !!
I'm looking forward to se you all in Vordingborg, October 28
At this moment i'm working on the d4p-bridges website; wich will be the "residence" of pictures, music, rumors and other stuff from the exchange.
So please visit
www.d4p.org
frequently ! IT IS YOUR SITE !!!!
Kind Regards Ole HH / Blogmaster